You can't go out in Dallas these days without running into a camera crew shooting yet another "unscripted" reality show. I can count at least 6 shows that were filmed here in the Dallas area and they tend to center on a mostly female, overly coiffed, designer label-wearing cast. But that couldn't be more opposite than the latest reality show to be filmed in Dallas, Misfit Garage. The "rejects" (their word, not mine) refer to the cast members who were once part of Gas Monkey Garage which spawned the first, muscle car-driven reality show, Fast and Loud. Apparently, Dallasites were ready to watch guys, and not girls, get dirty and gossip.
Anyway, I digress…what does all of this have to do with food, you ask? Turns out Misfit mechanic Tom Smith thinks he's quite the chef and has dreams of owning his own food truck. He's a family man and enjoys cooking for his children so figured hey, they really enjoy my food so why wouldn't you?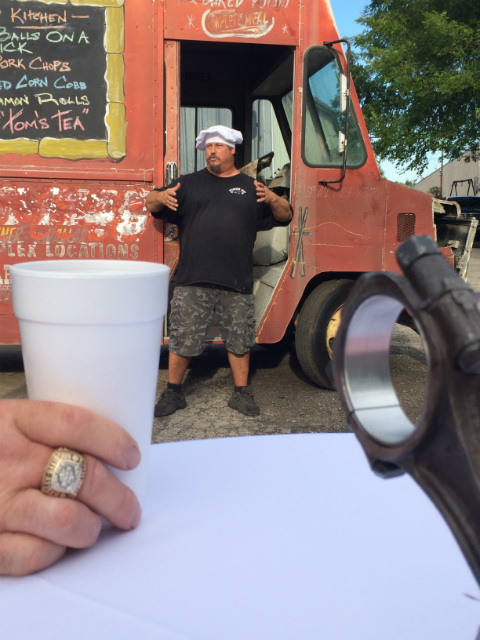 So the film crew decided to call him out on his cooking skills by inviting several restaurateurs and food bloggers to taste his food.
The concept was "B.B.Q Catering", I think. At least that's what it said on the side of Tom's truck. The guest list included several B.B.Q. specialists such as Jerk Perkins, who I shared a table with (The Slow Bone; Maple and Motor Burgers) along with Mike Anderson (Anderson's BBQ) and Justin Fourton of Pecan Lodge (the latter who did not show), so it was a bit confusing when we were presented with a mozzarella ball on a stick as our first bite instead of B.B.Q. I love cheese in any form but this was devoid of any real character and the marinara sauce tasted like it was straight out of the Prego jar. It wasn't horrible. If I had passed his truck at 2am after a night of barhopping, I'd eat that mozzarella ball in a heartbeat! Otherwise, I wouldn't go out of my way for it.
The next item on the menu was the Texas style pork chop served with a side of corn-on-the-cob.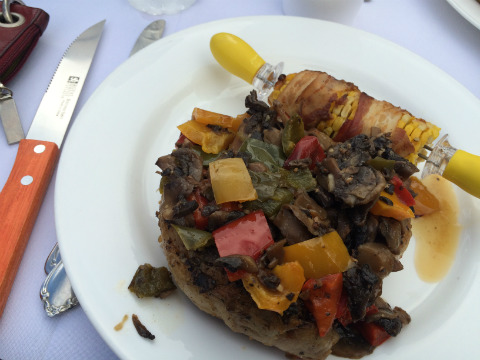 With this dish Tom wins the award for Most Creative Way to Get Kids to Eat Vegetables. He took a huge chunk of pork chop and unfortunately cooked all of the juices out of it, then smothered it in a "sauce" of sautéed mushrooms, bell peppers and onions. I'm sure he knew that you couldn't go wrong with bacon so he wrapped thin slices of it around the corn-on-the-cob. Our table agreed that the side of corn was the best item but we could pass on the pork chop. In Tom's defense, you have to be a darn good chef to execute a perfectly cooked thick pork chop in a timely manner for 30 people.
For dessert cinnamon rolls were served wrapped around pieces of bacon. The sweet and savory concept was a good one but the roll was straight out of the can. That's all I'll say about that. In the end it was fun being behind-the-scenes but if Tom is serious about starting his Gourmet Garage food truck then he needs to make smaller portions of food and refine his cooking skills. In the meantime he still has the cars to tend to!
*This episode will air next Spring.