Almost every restaurant has a burger on the menu. It's become that food item that must exist for that one friend who won't eat anything but a burger. At Knife, a "contemporary steakhouse" by chef John Tesar, both you and your burger-loving friend will have much to feast on with the primary theme being food that requires a knife.
Tesar is not a stranger to the burger craft. He created the menu at The Commissary (now closed) which featured 14 hamburgers all cooked using the C-Vap method (see here for a how-to). This technique of cooking burgers lead to a Best New Restaurant award from D-Magazine in 2011.
In the picture above, your eyes are not deceiving you. Indeed, that is an English muffin you see on this burger, fittingly named the Magic. In 2014 it received an Honorable Mention for Best Burger in Dallas in Zagat. It's smothered in cheese and filled with bacon slices served over a touch of greens. The burgers are typically served with fries; however, I opted for the incredibly tasty onion rings. It truly was a magic burger. There are 6 other burgers to try if The Magic is too basic for your tastes.
And if a burger is not your thing, then check out the other knife-required dishes such as rack of Colorado lamb or 240 day dry aged Niman Ranch rib eye and much more!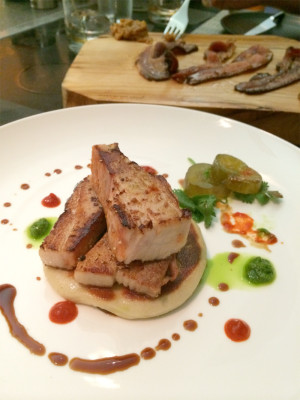 ◊Listed under the SLABS section of the menu, the Sriracha pork belly is a must-have! Served over a toasted steamed bun, hoisin sauce and Sriracha. In the background, the divine bacon board (listed under SLICES) features 5 bacon varieties including a sweet, breakfast type. This dish was gone in less than 60 seconds!
◊GGTips:◊
For a little balance, start with the Garden Salad.
For a less formal dinner sit in the bar area.
Located in The Highland Hotel, having a drink at the bar increases your chances of meeting an interesting traveler just passing through Dallas.