Three of my favorite things: tapas, Spain and Top Chef. What do these three things have in common? Chef José Andrés. You may know him as the mastermind behind the ultra-modern D.C. restaurant minibar, probably the most difficult spot in the city to get a table. He trained under Ferran Adrià, you know, the other Spaniard with the most difficult spot in the WORLD to get a table at when it was still open. Or perhaps you know him as the crystal blue-eyed TV personality with the ebullient Castilian accent-host of Made in Spain on PBS; winning competitor on Iron Chef and of course, as guest judge on my favorite show, Top Chef.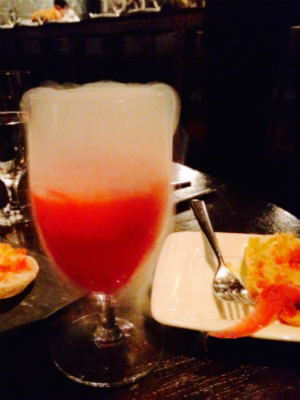 Since I haven't had a chance to eat at minibar, I jumped at the chance to eat at Andrés' The Bazaar while on a business trip in LA. Walking into the restaurant (located at the SLS Hotel Beverly Hills) is to walk into a modern bazaar of five, differently themed dining rooms designed by Philipe Starck (Blanca, Bar Centro, Rojo, The Patisserie, SAAM) and a "floating" gift shop without walls Regalo, sandwiched in the middle of it all.
On to food and drink! Even though the Bazaar is "tapas-inspired", don't immediately order a glass of Tempranillo or sangria. No, no, no. You must go for one of the smoking cocktails such as the Smoke on the Water (blackberries and atomized Scotch) or the New Way martini with olive spherification.
Then you can dive into the more traditional Spanish items such as sautéed shrimp in garlic and guindilla pepper (pictured above) or one of several types of jamón.
After vetting Andrés traditional Spanish cooking we moved on the delicate dish of apple and fennel with manchego cheese, walnuts and Sherry vinegar and continued to work our way through most of the menu. Enticed yet?? You should be. The Bazaar is worth the trip!
◊GG Tips◊:
Take dessert in the Patisserie lounge. Eat one of sixty types of confections amidst pink walls, flowers and white chandeliers or take them to enjoy at home.
Schedule your visit around L.A.'s restaurant week when you can sample a significant portion of the menu without breaking your wallet.